When the Hurricanes Come
Posted by Stuart Staniford on June 10, 2006 - 1:36pm
Now that the hurricane season had started, I wanted to know if there's much chance of one in June. Not really, it turns out: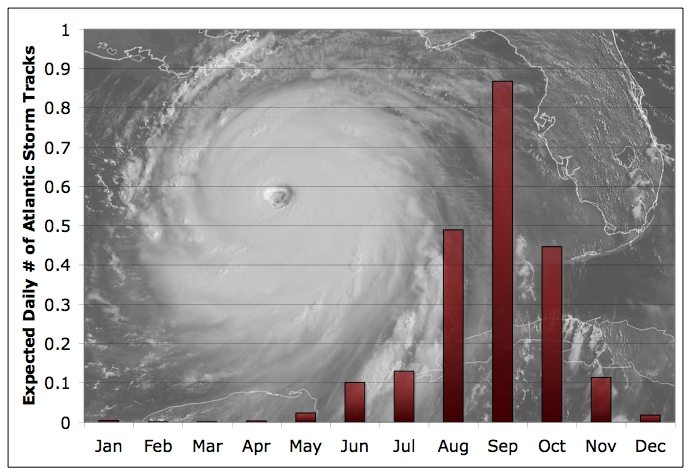 Average number of storm tracks (any category) on a given day in each month over the period 1851-2005. Source: NOAA NHC.
Update [2006-6-10 13:36:2 by Stuart Staniford]: Well, what do you know - here's Tropical Depression One:
Update [2006-6-11 18:12:55 by Stuart Staniford]: Now Tropical Storm Alberto.
Projected three day track of tropical depression ONE. Source: NOAA NHC.
Update [2006-6-12 12:48:38 by Stuart Staniford]: "ALBERTO HAS THE POTENTIAL TO BECOME A HURRICANE WITHIN THE NEXT 24 HOURS."
The graph was made by parsing the HURDAT data file of past tracks made available by the
National Hurricane Center
. I'll probably do more mining on this data in the future, but for now the graph above just shows the average number of storm tracks present in the Atlantic on a given day, by month. (This includes all the wimpy storms as well as the real hurricanes, just to get a sense of when things can happen).
Checking in with SSTs, the big temperature anomaly in the Gulf a month or two ago seems to have mostly dissipated: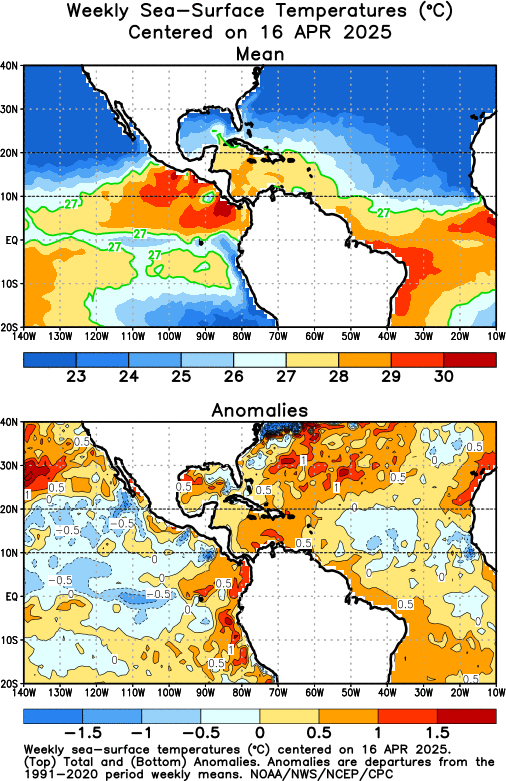 SSTs in the tropical Atlantic, together with anomaly from average. Source: NOAA.
However, it's still warm all across the tropical Atlantic.
Finally, I can't resist reposting this graph I put in a comment on HO's thread:
Oil and NG production in the Gulf of Mexico, together with hurricanes and tropical storms in the region. Source: EIA.