Global Land Use
Posted by Stuart Staniford on June 2, 2006 - 11:45am
I've been continuing with my slow meandering efforts to understand the large facts about the biosphere, and thus it's potential for things like making biofuels as well as sequestering (or releasing) carbon, etc. This post is a small milestone along the way: I just wanted to put up a few graphs of what humanity uses the globe for (as you'll see, humanity is already using most of the land area).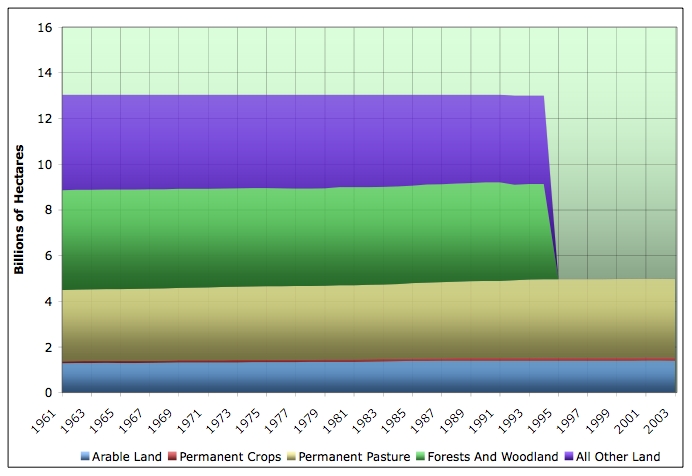 Major classes of global land use shown as stacked areas. Source: FAO.
In this post, I'll work in units of billions of hectares. A thousand hectares is 10 square kilometers, or 3.86 square miles. The land area of the planet is 14.8 billion hectares. Of that, 1.4 b.h. is Antarctica which has a rather low biological productivity. That leaves 13.4 b.h. or so in the rest of the continents. The top ten countries in terms of land area in these units are:
| | |
| --- | --- |
| Russia | 1.71 |
| Canada | 1.00 |
| United States | 0.96 |
| China | 0.96 |
| Brazil | 0.85 |
| Australia | 0.77 |
| India | 0.33 |
| Argentina | 0.28 |
| Kazakhstan | 0.27 |
| Sudan | 0.25 |
These ten countries represent 53% of the non-Antarctica land area. If the European Union was a country, it would weigh in at 0.40 b.h. - slightly ahead of India, but far behind the bigger countries.
According to the FAO, the recent trends in global land usage are as follows.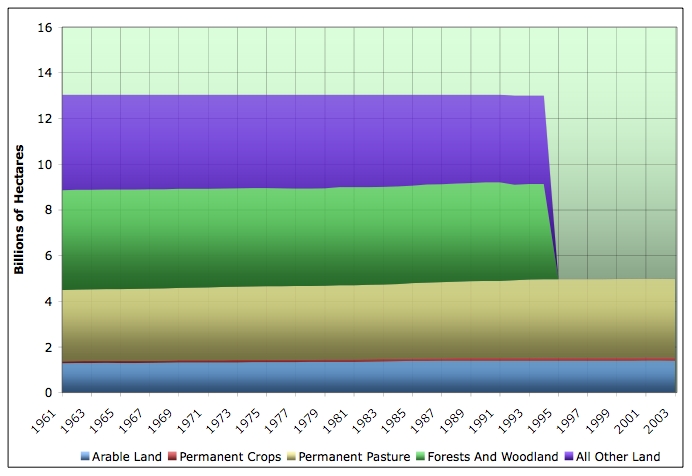 Major classes of global land use shown as stacked areas. Source: FAO.
As you can see, it adds up to about the 13.4 b.h. expected. Unfortunately the data series for forests/woodlands and "All other land" end in 1994. These are the largest categories, with pasture land a little bit behind, and then arable land somewhat smaller and permanent crops (eg orchards, sugar cane) far behind again.
It's easier to get a sense of the trends (which are fairly slight) in individual classes by looking at a line graph: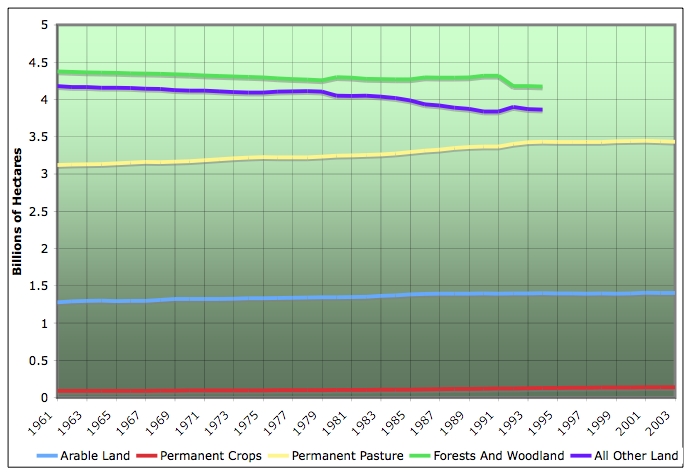 Major classes of global land use shown as individual trend lines. Source: FAO.
There are steady but modest decreases in forests and other lands, and steady but modest increases in pasture land and arable land. Presumably, these trends are likely to continue as human population increases. But it's hard to see them radically accelerating, given that people are already using almost all the best land. Thus major changes in the production of the land would have to come from changing the productivity of it, not from expanding the area utilized.
Finally, the FAO has statistics of agricultural land (arable plus pasture plus permanent crops) that is irrigated. Here's what that graph looks like: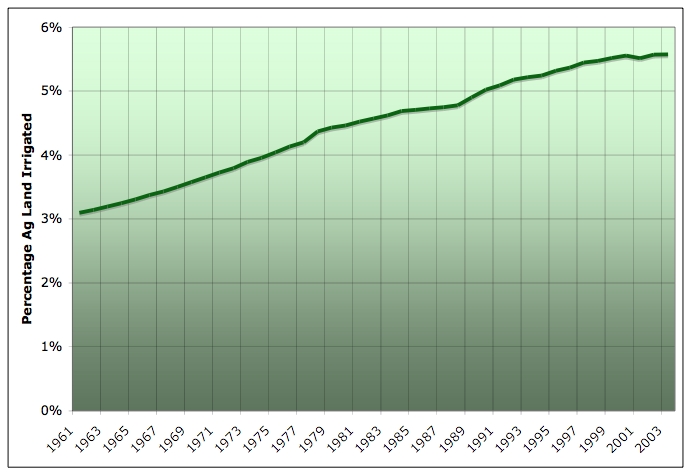 Percentage of arable land that is irrigated. Source: FAO.
As you can see, it's been going up pretty steadily, except for a leveling off in the last few years. Whether that leveling off is a temporary matter or something more serious, I don't know. I've been reading Lester Brown's Plan B lately; he's very concerned about water, but he doesn't present the evidence clearly enough for me to decide whether I agree with him or not.