Plateau background
Posted by Stuart Staniford on June 14, 2006 - 9:49am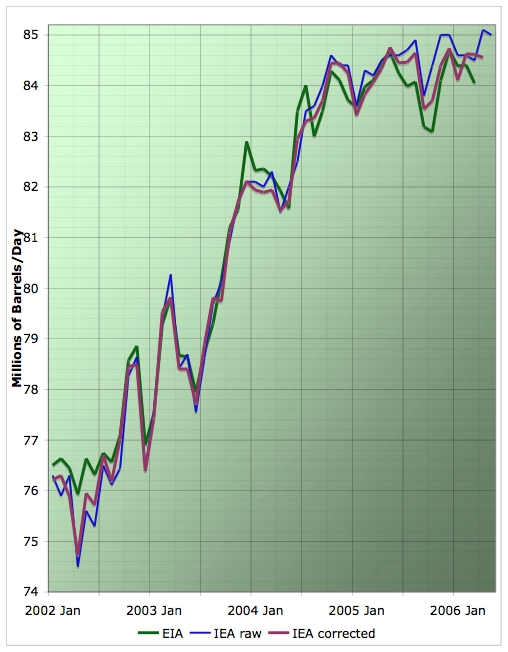 Average daily oil production, by month, from various estimates. Click to enlarge. Believed to be all liquids. Graph is not zero-scaled. Source: IEA, and EIA. The IEA raw line is what they initially state each month. The IEA corrected line is calculated from the month-on-month production change quoted the following month.
The latest
IEA Oil Market Report
is out. In their inimitable style, they say:
World oil supply rose by 445 kb/d in May to 85.0 mb/d, fuelled by increases from OPEC, a lull in North Sea maintenance and recovering US GOM supply.
That sounds good, doesn't it? A healthy increase from April to May? What they
don't
tell you is in April they were claiming supply was 85.1mb/d, which they've now revised down to 84.55mb/d. You have to be keeping track to notice that. This gives the realization that April, which they had said was the highest supply month ever, is probably not that special (we'll know better when the US EIA weighs in on April supply at the end of this month).
Anyway, this means basically that the pattern of the last eighteen months of more-or-less flat supply is continuing. The moving average graphs now look like this: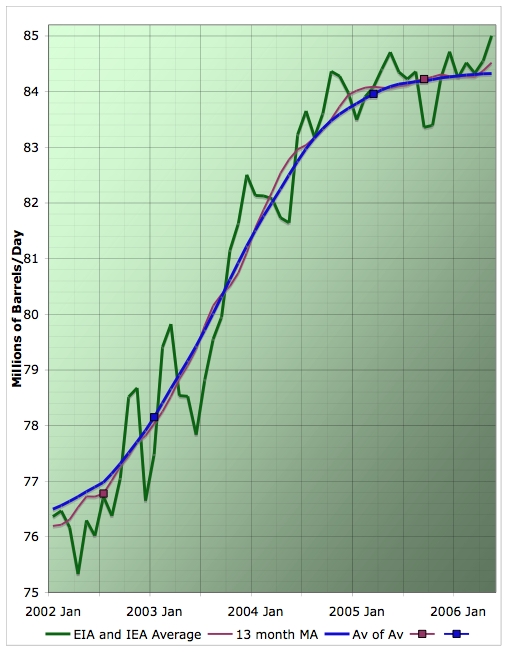 Average daily oil production, by month, averaged from estimates by the EIA and IEA, together with 13 month centered moving average, and recursed moving average of the moving average. The last data point in the monthly data is from the IEA's preliminary estimate alone, and the moving average windows are reduced at the graph edges to only include the data that exists. The squares represent the last point on the correspondingly covered curve where the entire window has full data. Believed to be all liquids. Graph is not zero-scaled. Click to enlarge. Source: IEA, and EIA.
I promised I'd give a little more context to these plots in this post. I started plotting versions of these graphs on Thanksgiving Day 2005 (the day Ken Deffeyes had said, tongue-in-cheek, would be the peak of the smooth Hubbert curve of global production). I noticed there was a noticeable flattening of the curve. At that time, I was working from data provided by the Oil and Gas Journal, but I've since evolved my methodology and build these graphs out of data from both the US EIA (a branch of the Department of Energy), and the International Energy Agency (IEA), an OECD agency charged with worrying about security of energy supply. Both agencies produce monthly statistics.
The IEA reports first about 10-15 days after the end of the month. Then the following month, they produce a revised figure. The EIA doesn't report on a particular month until about two months later. Each time either of them come out with a new figure, I update my graphs. One graph (the headline in this story) shows all of the IEA initial reports, the following month corrected figures, and the EIA numbers. Presumably, the difference between the EIA and the IEA is some kind of estimate of the uncertainty in the data for global production.
The other graph I regularly produce shows a recursively applied moving average to smooth the data. The monthly signal that this is being applied to is the average of the EIA and IEA estimates. This is my best effort to see the overal trend in supply through the month-to-month and estimate-to-estimate noisiness. I have argued elsewhere that this plateau is probably evidence of peak oil being near-term (either now, or within the next few years, rather than decades off).
Several caveats are in order. First of all these data are for "all liquids". As well as crude oil, this includes natural gas liquids and condensate, ethanol, production from tar sands and Orinoco bitumen, coal-to-liquids production, and refinery gains (heavy oils cracked in the refinery increase in volume). A good discussion of the issues with this was recently led by thelastsasquatch.
It's also important to understand the region I'm plotting (Jan 2002-now) in the context of the overall history. A long history of oil production from 1930-2004 looks like this: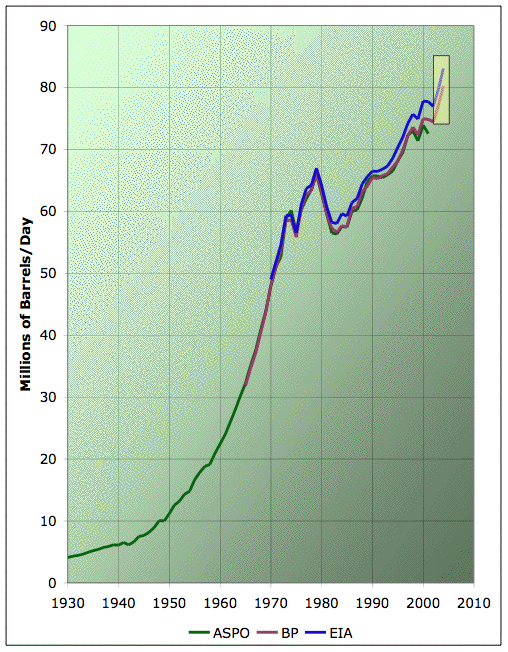 Average annual oil production from various estimates. Click to enlarge. Believed to be all liquids. EIA line includes refinery gains, others do not. Sources: ASPO, BP, and EIA.
The little yellow box shows the small piece of recent history we are plotting in the plateau graphs. The most prominent feature of these graphs are the oil shocks of 1973 and 1979-1980. In both cases, a regional disturbance in oil production (the Arab embargo in 1973, and then the Iranian revolution and closely following Iraq-Iran war in 1979-1980) produced a large abrupt contraction in supply for geopolitical reasons. That led to high prices, fuel switching and conservation measures, severe economic recessions, and a contraction of both demand for and supply of oil.
If we move into a more recent timeframe, the next graph shows oil production (green) and real oil prices (plum) since the beginning of 1989.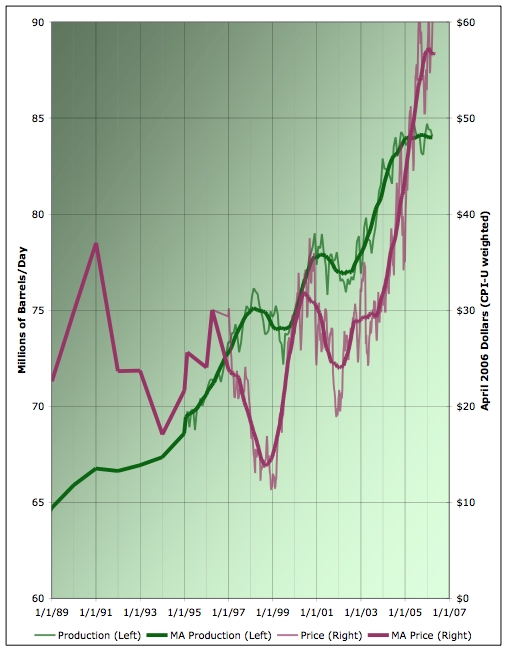 Oil production by month from 1995 on (with annual numbers from 1989-1995), together with a 13 month centered moving average. This is in green and uses the left scale. Believed to be all liquids. Graph is not zero-scaled. Also shown is world oil price, averaged across grades with export volume weighting (plum, right scale). Prices are weekly, except annual prior to 1997, and have a 52 week moving average shown also. Prices are inflation adjusted using the monthly CPI-U to be in April 2006 dollars. Click to enlarge. Source: EIA.
You can see that there have been flattenings or downturns before - three times in this interval. The first is in 1991 and is similar to the events of 1973 or 1979 (but much milder). The Persian Gulf War following the Iraqi invasion of Kuwait caused a moderate oil shock.
The "peaks" of 1998 and 2001 are different in character. In both cases, they were led by demand falling, not by supply constraints. This is clearly visible in the graph above because prices peak and then fall for a year or so prior to those production peaks. The first of these was caused by the cascading emerging market currency crises that became known as the Asian flu. The second was caused by the collapse of the US technology stock bubble. In both cases, recessions in parts of the world led to falling demand for oil, falling prices, and eventually falling production.
The events of 2004-2005 appear to be unprecedented in the history of oil production. The flattening of supply was not demand led - on the contrary demand for oil has remained strong as evidenced by the fact that prices have continued to rise to very high levels throughout the supply plateau.
Nor was it caused by any particular geopolitical (or weather) related outage. I have analyzed this at length, and the basic plateau shape is there even if one assumes various oil disturbances had not occurred (and they are mild compared to past oil shocks in any case).
So, at a minimum, we can say with confidence that there is some kind of unprecedented difficulty in raising global oil production/consumption. The graphs I build each month are meant to track the ongoing story of this period with a view to understanding it as it evolves.
For more information than I can summarize here, see these past stories:
Other relevant coverage: