Missing Barrels
Posted by Stuart Staniford on February 24, 2006 - 6:50am
Matt Simmons, after having disappeared from the news for a bit, has recently been
covered like this
:
HOUSTON -- From 2004 through 2005, the world produced almost 650 million barrels more oil than demand consumed, according to the accepted International Energy Agency model. But where are these barrels of oil?

"Little of this glut has shown up in observed petroleum stocks," writes Mr. Simmons, author of Twilight in the Desert: The Coming Saudi Oil Shock and the World Economy, in the January issue of World Energy Monthly Review. "In fact, as demand for oil continues to grow, daily usage rates indicate many key stock points are at historic lows."
Let's have a quick look at the data for ourselves...
IEA data is a bit of a nuisance as you either have to pay them for the data in a convenient format, or extract it manually out of all the individual text reports. However, the EIA has
Table 2.1
, which has the global quarterly oil balance for 2004 and 2005 (except that the last quarter of 2005 is not available yet). So I worked from that. To start with, here's supply and demand.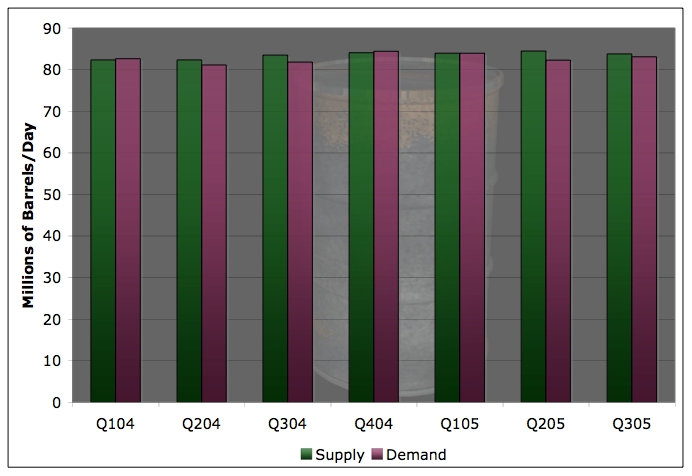 World oil supply and demand by quarter 2004 and 2005. Click to enlarge. Source: EIA.
You can see that there's something of a seasonal effect. Supply has been pretty flat over the last couple of years, but demand seems to dip below it each summer, allowing for some stock build. The EIA data breaks the stock build down. They separately record US stocks (both strategic and commercial), stocks in the rest of the OECD, and oil-on-water. All of that I lumped together as "known" stocks. And then there's the category politely named "Other Stock Draws and Statistical Discrepancy", which is either oil that they don't know where it went, or errors in the supply or demand numbers. So therein is the missing barrels (I assume, anyway). I plotted the net additions to stocks, both the known and unknown varieties: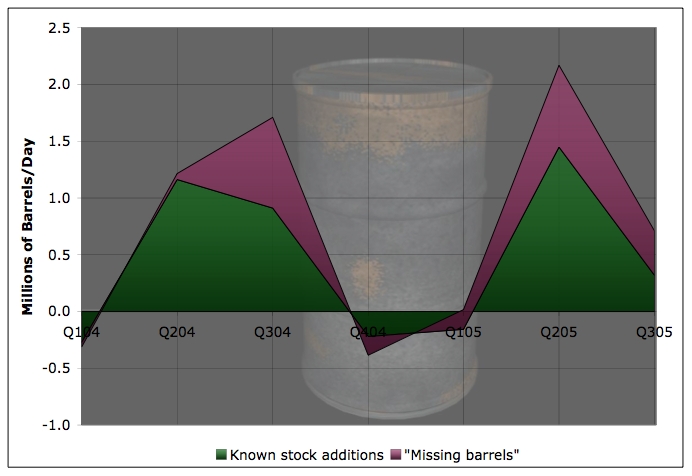 World supply in 2004 and 2005 going to known stock builds, and to "Other Stock Build and Statistical Discrepancy". Click to enlarge. Source: EIA.
The seasonality comes through, but it's also clear we are building stocks in the known area, and also oil keeps going into the unknown category. This final graph shows the cumulative additions to both kinds of stocks in gigabarrels from the beginning of 2004.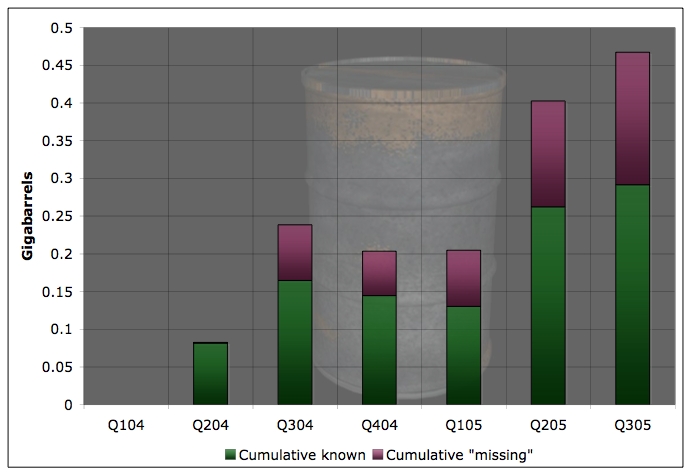 Cumulative stock build in 2004 and 2005 in known locations, and to "Other Stock Build and Statistical Discrepancy". Click to enlarge. Source: EIA.
You can see that the EIA estimates somewhat less than the 0.65 Gb of the IEA - only about 0.47 Gb. Of that, 0.29 Gb went into known stocks. The fact that we are building stocks seems fairly consistent with the idea of a near term peak and also with a risk of oil shocks due to geopolitical events. To the extent the market becomes concerned about those things, it will put enough of a premium on oil prices to cause supply and demand to separate and allow more oil to be stored as a precaution.
However, the build levels aren't huge. 0.47 Gb of oil is about 6 days worth of global production. So a little more precaution, but certainly not outlandish.
I can't quite get as excited as Matt about the missing barrels. The thing is that only OECD stocks are explicitly counted in the known stocks. So the unknown category includes all non-OECD stocks (eg China, Russia) as well as any outright statistical errors (true missing barrels). Since OECD oil consumption is only 60% of usage, it somehow doesn't seem outlandish that something like 0.18/0.47 = 38% of stocks would be outside of the OECD. Presumably the Chinese and Russians need storage depots too. No doubt there is some statistical error in there, but it's not obvious to me there's enormous cause for concern.
Anyone else got a clearer idea than me of why this is supposed to be scary?