"Dangerous Anthropogenic Interference"
Posted by Stuart Staniford on February 2, 2006 - 9:40pm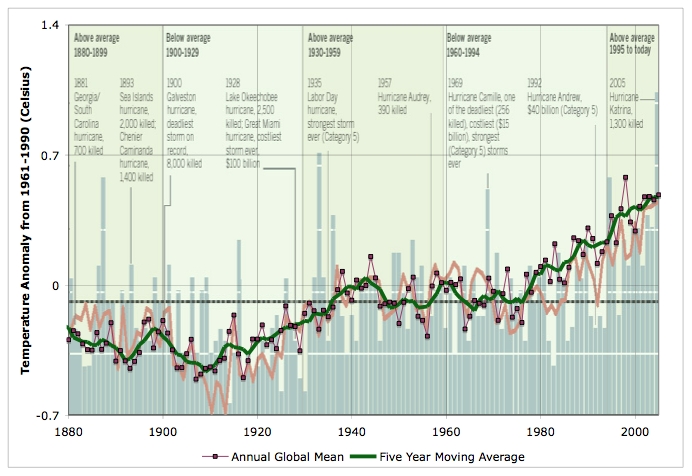 Global average temperature 1880-2005, five year moving average, and North Atlantic sea temperatures (on the same scale) and storms in the background. Data: UEA CRU, and LA Times for background figure.
Many people have the perception articulated by
Halfin
, the
other day
:
My understanding is that most of the impact of global warming is in the relatively far future, decades away, in the latter half of the 21st century. Some small effects are being noticed now, changes in growing seasons, changes in animal and plant distributions, but nothing major.
There is currently a debate in the scientific literature about when exactly climate change will constitute "dangerous anthropogenic interference" in the climate. The phrase comes from the United Nations
Framework Convention on Climate Change
, which aimed
to achieve stabilization of greenhouse gas concentrations in the atmosphere at a low enough level to prevent dangerous anthropogenic interference with the climate system.
The British Government recently released a report on
Avoiding Dangerous Climate Change
, which argued that:
A number of critical temperature levels and rates of change relative to pre-industrial times were noted. These vary for the globe, specific regions and sensitive ecosystems. For example, a regional increase above present levels of 2.7 oC may be a threshold that triggers melting of the Greenland ice-cap, while an increase in global temperatures of about 1 oC is likely to lead to extensive coral bleaching. In general, surveys of the literature suggest increasing damage if the globe warms about 1 to 3 oC above current levels. Serious risk of large scale, irreversible system disruption, such as reversal of the land carbon sink and possible destabilisation of the Antarctic ice sheets is more likely above 3 oC. Such levels are well within the range of climate change projections for the century. While a clear temperature threshold has not been identified for shutdown of the Atlantic thermohaline circulation, studies were presented suggesting that a shutdown becomes more likely with increasing temperature.
and
There is a range of emission pathways that could be followed theoretically to avoid different temperature levels. Probability analysis provides a quantitative estimate of the risk that a particular temperature level would not be exceeded. For example, limiting warming to 2 oC above pre-industrial levels with a relatively high certainty requires the equivalent concentration of CO2 to stay below 400 ppm. Conversely, if concentrations were to rise to 550ppm CO2 equivalent, then it is unlikely that the global mean temperature increase would stay below 2oC. Limiting climate change to 2oC above pre-industrial levels implies limiting the atmospheric concentration of all greenhouse gases. Based on new insights into the uncertainty ranges of climate sensitivity, a stabilisation at 450 ppmv CO2 equivalent would imply a medium likelihood (~50%) of staying below 2oC warming. In many cases this would mean that concentrations would peak before stabilising, though whether this could be achieved practically was not considered.
I think this is definite progress is recognizing the seriousness of the situation, but I do not think we are there yet.
I'm going to argue that the changes due to global warming are full-on, old-testament, wrath-of-God stuff, they are starting already, and they will get much worse in our lifetimes. This is not a problem for our grandchildren, it's very much a problem for us.
There are a number of things to pick, but I'm going to focus on two: hurricanes (this post), and sea-level (next post).
Hurricanes
Here's my argument.
1) Atlantic Sea Surface Temperatures follow global temperatures. They aren't anything special - they pretty much follow the global temperature trend. Remember that nice picture we discussed from the LA Times? The one that showed Atlantic sea temperature and storm count? Here it is again as the background for a plot of global surface temperatures, together with the five year moving average of global temperature. The global temperature graph is scaled to match that of the background Sea Surface Temperatures (SSTs), which are the orange curve.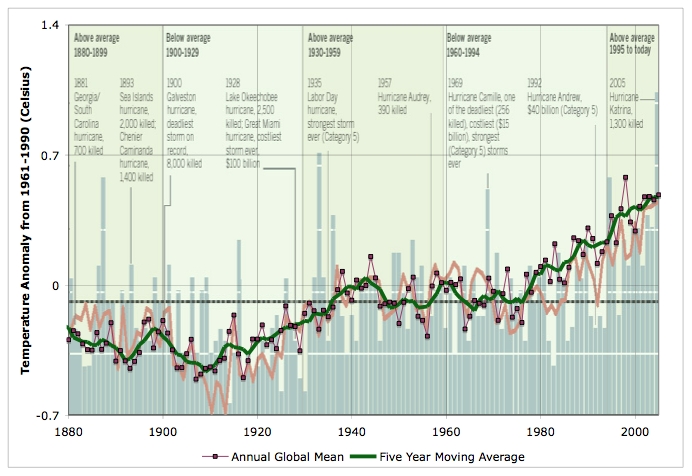 Global average temperature 1880-2005, five year moving average, and North Atlantic sea temperatures (on the same scale) and storms in the background. Data: UEA CRU, and LA Times for background figure.
As you can see, the Atlantic SSTs pretty much follow the global temperatures. We don't need a special Atlantic oscillation to explain them. They have a slight wrinkle or two of their own going on now and then, but the big movements of the two curves all occur together. Clearly, whatever explains the one curve is going to explain the other to a pretty decent approximation. When you know how one curve will evolve in the future, you'd probably feel pretty safe assuming the other would continue to follow it. Certainly, if the solvency of your investments depended on the assumption that those two curves were going to break lockstep, you would rightly be very worried.
2) Hurricane damage is controlled by SSTs. Here's Fig 1 of K. Emanuel's Nature paper last year. It shows the total power dissipated by hurricanes and the sea surface temperature. The total power dissipated -- the total amount of energy that the hurricanes take out of the ocean each year and transform into howling gales -- is a function of wind speeds (cubed), the size of the storms, and the length of the hurricane tracks.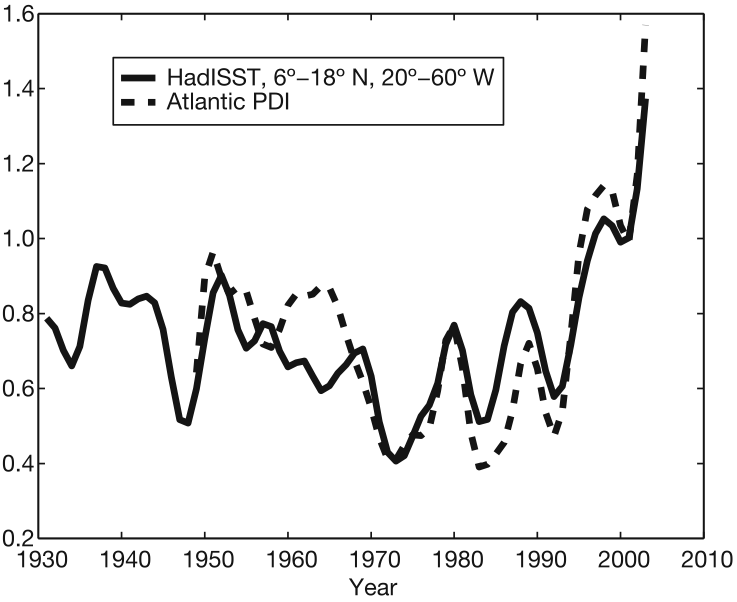 Estimate of total amount of power dissipated (PDI) by Atlantic hurricanes each year, together with average SSTs in hurricane forming region (offset by a vertical constant). Source: This is Fig 1. of Emanuel, 2005.
The correlation coefficient between the two lines is 69% (ie the r2 for those statistically inclined). This implies that most of the variation in hurricane power dissipated is explained by sea surface temperatures - they are the dominant effect. The economic damage caused by hurricanes is likely to be proportional to the total power dissipated times the value of the developments that lie within reach of the storms.
3) Global temperatures are explained by known forcings. The current models, with recent understanding of forcings, while there are residual uncertainties, are well able to explain the temperature history of the planet in the twentieth century. We discussed this at length the other day. The fit by models such as GISS GCM Model E are excellent, but even my simple one dimensional model was able to produce most of the important features of the curve given the right forcing input.
4) Forcings are climbing fast. Under any reasonable emissions scenario, the climate forcing is going to climb further in the future. Even if we could hold emissions constant, which doesn't seem very plausible at the moment, the forcing would continue to climb as we add CO2 to the atmosphere faster than the sinks remove it. Here's the historical climate forcings, together with projected forcings in the case of linearly extrapolated climbing carbon dioxide emissions, exponentially extrapolated emissions, and emissions constant at the 2004 level. This assumes all other forcings stay flat in total (ie aerosols don't get cleaned up, or made worse, and methane + CFCs continue to stabilize. You can imagine adding volcanoes to taste - but it would take biblical scales of volcano interruptions to avoid biblical hurricanes.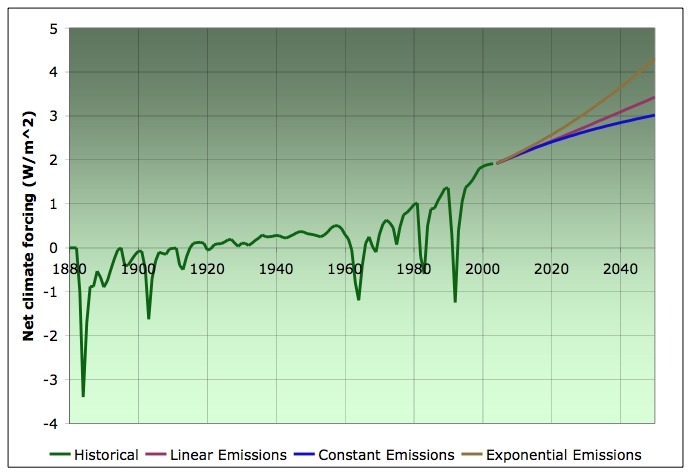 Historical radiative forcing estimates plus projected forcings due to various carbon emissions scenarios. All other forcings held constant. Historical estimates from Fig 1 of Hansen et al, 2005. Uses Table 1 of Hansen and Sato, 2000 for conversion formulae from CO2 mixing ratios to radiative forcings for projections.
5) The temperature rise is just beginning. Under any likely emissions scenario, absent heroic efforts, temperatures will rise much more in the next few decades than they already have. The core problem is that there's so much warming already in the pipeline. The earth is now a little less than one watt per meter squared out of radiative equilibrium - thus we are gaining that much heat all the time. Thus, even if we stopped CO2 emissions altogether tomorrow, temperatures would still rise by around 0.5oC in addition to the rise to date. Given further emissions, the temperature rise is likely to be significantly greater than the rise so far.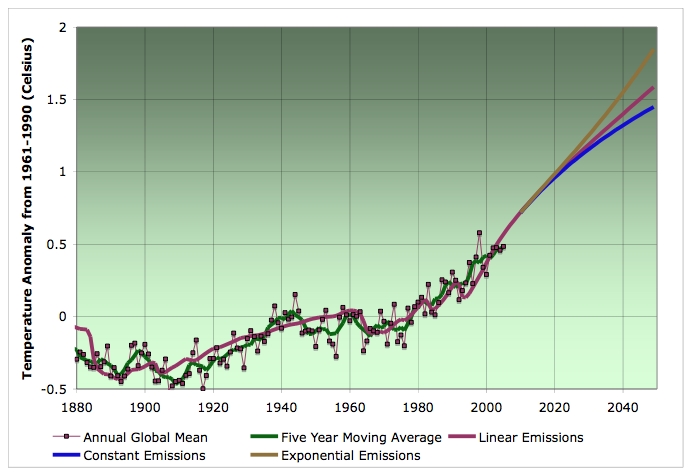 Global average temperature 1880-2005, together with one dimensional model fit (as described in the text) extrapolated to 2050 for the case of linear, constant, and exponential emissions (all other forcings held constant after 2003). Data: UEA CRU.
Remember that the temperature increases projected in this figure are on the lower end of the range for the IPCC 2001 report - these are not outside of mainstream climatological expectation at all.
6) Conclusion. Unless something radical happens to one of the trends in points 1)-5), hurricane intensity is likely to get dramatically worse with each passing decade from here on.
Readers may we wondering about NOAA's insistence that global warming has nothing to do with hurricanes. I've read Goldenberg et al, 2001, and Bell et al, 2004, and I don't find it very credible. Firstly, they completely are in accord that SSTs are a major driver of hurricane activity. However, they had noticed empirically that there's an apparent oscillation in the SSTs, and postulated that there must be some underlying mechanism for this oscillation which would continue to operate in future. As far as I can see, there's no real physics behind this supposed oscillation at the present - it's just a name for the fact that the historical record goes down, up, down, up. They viewed the history of the temperature fluctuations as inconsistent with a global warming explanation which they thought should be a gradual trend. However, as we have seen, once the full history of forcings is adequately understood, this is not the case.
As Hansen et al put it:
In summary, the warming in the model in recent decades is due to the assumed forcings, and we have presented evidence in this paper that the magnitude of the model's response to forcings is realistic on time scales from single volcanic eruptions to mutidecadal GHG increases. The period 1970-2005 under discussion with regard to hurricanes is the time when forcings are known most accurately, and during that period anthropogenic GHGs were the dominant forcing. Although unforced fluctuations undoubtedly contribute to Atlantic Ocean temperature change, the expected GHG warming is comparable in magnitude to observed warming and is likely a significant contributor.

We conclude that the definitive assertion of Gray [2005] and Mayfield [2005], that human-made GHGs play no role in the Atlantic Ocean temperature changes that they assume to drive hurricane intensification, is untenable. Specifically, the assertions that (1) hurricane intensification of the past decade is due to changes in SSTs in the Atlantic Ocean, and (2) global warming cannot have had a significant role in the hurricane intensification of the past decade, are mutually inconsistent. On the contrary, although natural cycles play a role in changing Atlantic SSTs, our model results indicate that, to the degree that hurricane intensification of the past decade is a product of increasing SSTs in Ocean and the Gulf of Mexico, human-made GHGs probably are a substantial contributor.
In my view there's an excess of scientific caution in those words, given the strength of the evidence. Scientists are trained to be careful and cautious in their statements, but given what's at stake here, I think there's a danger of lots of politely caveated "probably"s and "likely a significant"s falling on deaf ears. After recent news, one can't help wondering if the
NASA PR people
had some input on the wording.
I think Hansen et al's pictures speak much more forcefully than their words.

Temperature anomaly in sea surface temperatures from 1995-2005 relative to 1970-1994. On the left is actual observations, and on the right is output of GISS Model E. From Fig 22 of Hansen et al, 2005.
Update [2006-2-2 23:26:35 by Stuart Staniford]: Here's the temperature anomaly scale:

You can see the model generally gets it right, but it misses how much the North Atlantic and parts of the Arctic really warmed (indeed it underestimates the global temperature rise over that period by around 15%). Roughly speaking, that's the degree of change that bought us the hurricane intensity of the last few years. Now look at what the model says about the extra anomaly from 2045-2055 over 2000-2010. Ie, this is how much extra SSTs we would get over the era that bought us Bonnie, Charley, Frances, Ivan, Dennis, Katrina, and Rita (not to mention Epsilon).

Temperature anomaly in sea surface temperatures from 2045-2055 relative to 2000-2010 from GISS Model E. On the left is the IPCC scenario A2, which lies between our linear and exponential extrapolations, and on the right is an alternative emissions scenario designed to minimize the risk of ice sheet loss. From Fig 22 of Hansen et al, 2005.
The world is already tracking above the alternative scenario due to higher than prescribed CO2 outputs. But even in that case, we experience more increase in SSTs than it took to get us the hurricanes of the last few years. The A2 scenario is unimaginable.
Just a quick reminder of what this all means in human terms. This used to be people's houses. This is in New Orleans, but a lot of the Mississippi coastline looks like this too: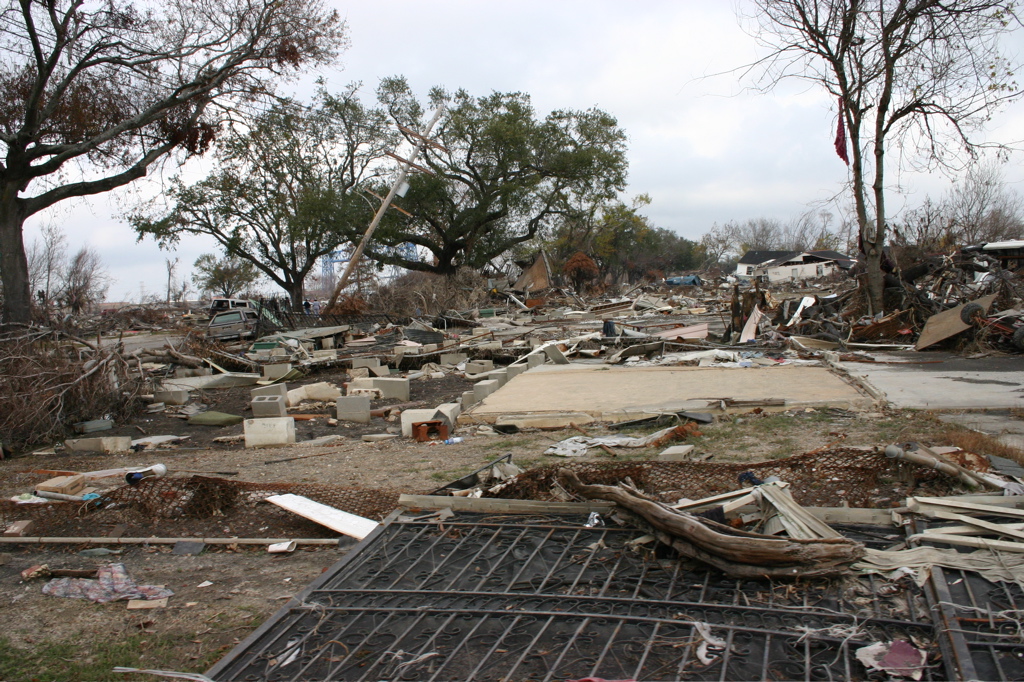 Lower 9th ward of New Orleans, December 2005. Picture credit: Zoe Hare.
The only way I can read the evidence right now is that this kind of thing is going to be happening year after year after year, getting worse with each decade. There'll be fluctuations year-to-year, but it's very hard to see how this can get better.
Oh, and it's not very good for the oil supply either:
Thunder Horse Platform. Picture credit: MMS.