Why We Drive
Posted by Stuart Staniford on December 13, 2006 - 10:00am
(Or, why mass transit and land-use changes probably won't help our problems very much).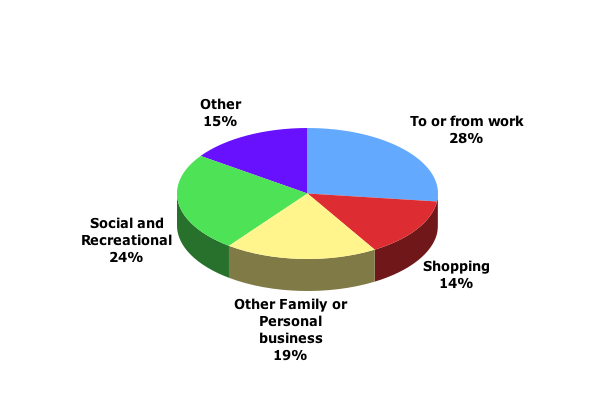 Breakdown of 2001 household vehicle miles traveled in the United States by purpose. Source: Table 6 of Summary of Travel Trends: 2001 National Household Travel Survey.
I think most of us on this site would agree that figuring out what to do about this terrible trio:
The need to accomodate peaking or plateauing of global oil supply.
Carbon emissions contributing to global warming
Dependence on oil from politically unstable, especially Middle Eastern, sources
is our major generational challenge.
Although reasonable people can differ over the timing and shape of the oil peak (#1), only fairly unreasonable people now believe that we can continue to increase our CO2 emissions without severe consequences in the future (#2). And almost everybody agrees that we have a serious near-term problem with #3, since so much of global oil supply comes from parts of the world at risk of "regional conflagration", to use our new Secretary of Defense's term.
So what to do?
There are a variety of answers out there: more efficient cars, better land-use planning, more mass-transit, consuming less, switching to alternative forms of energy to name a few.
Recently, for reasons that will become clearer in future posts, I've been trying to come up to speed on transportation issues. I'm tentatively coming to some conclusions that I know a lot of people on this site aren't going to like. I thought I'd start putting them out there and see what holes in my argument folks can find.
Specifically, it seems to me that neither changes in land-use, nor changes in transportation infrastructure (transit etc), are terribly promising as approaches to the terrible trio.
To put this in more concrete terms, I mean that these possibilities can only be very "thin wedges" in the pile of wedges that need to be stacked up between the declining oil usage or carbon emissions we would ideally like to have, and the accelerating usage/emissions we would be likely to get with continued business as usual. Roughly speaking, it appears to me that we need 6-8% of wedges (meaning enough things to get us from 1-2% annual increases down to 5-6% annual decreases in either emissions or oil usage). 5-6% is a reasonable number for illustrative purposes: it's what Hubbert linearization suggests for eventual global decline rates, it's the decline rate achieved in global oil consumption from 1979-1983, and it is also what the Institute for Public Policy Research suggests we do to carbon emissions to have high confidence that global temperature rise will not exceed 2oC. It's in the range of "pretty painful but probably not impossible". So in that context, a big wedge is a 3% or a 5% wedge. A small wedge is 1/2% or less.
The following figure illustrates the general idea (which can only be seen as a rough approximation, but good enough to be useful).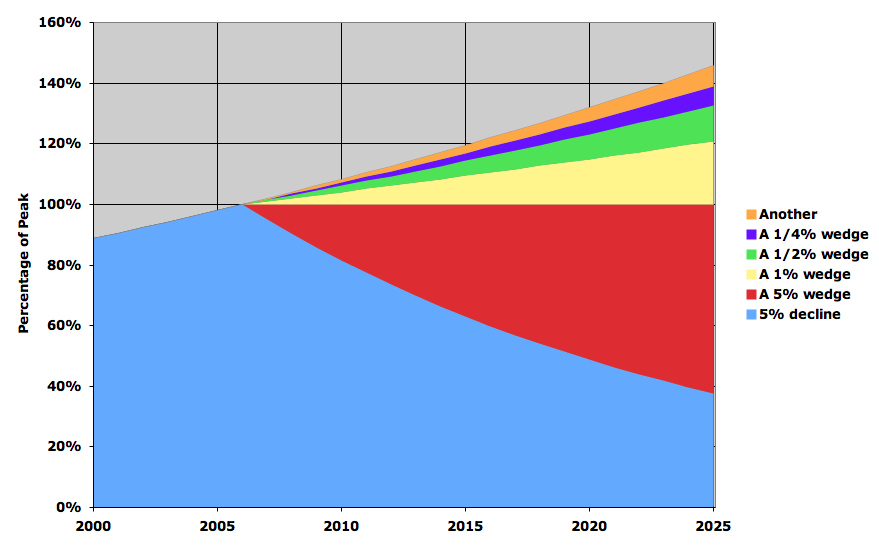 Illustration of the idea of large and small wedges making up the difference between a 5% decline over the next twenty years, and 2% growth over the same time period (in any relevant quantity, such as oil production, oil imports, or carbon emissions).
Firstly, let me, for the sake of completeness, justify why one would focus on transport, and specifically autos, if worried about any of the terrible trio:
In the US, transportation represents 2/3 of our oil consumption: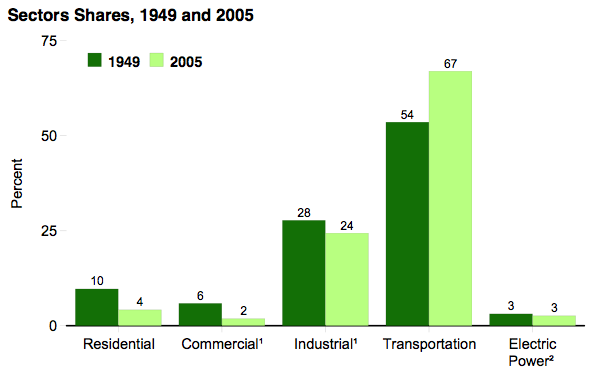 Breakdown of US oil usage by sector, 1949 and 2005. Source: Figure 5.13a of EIA Annual Energy Review 2005.
Of that usage, the majority (a shade under 2/3) is used by light vehicles on the highways. Similarly with carbon emissions. For example, here in California, where we just committed to cut carbon emissions 25% below business-as-usual by 2020, over half of the problem is transportation.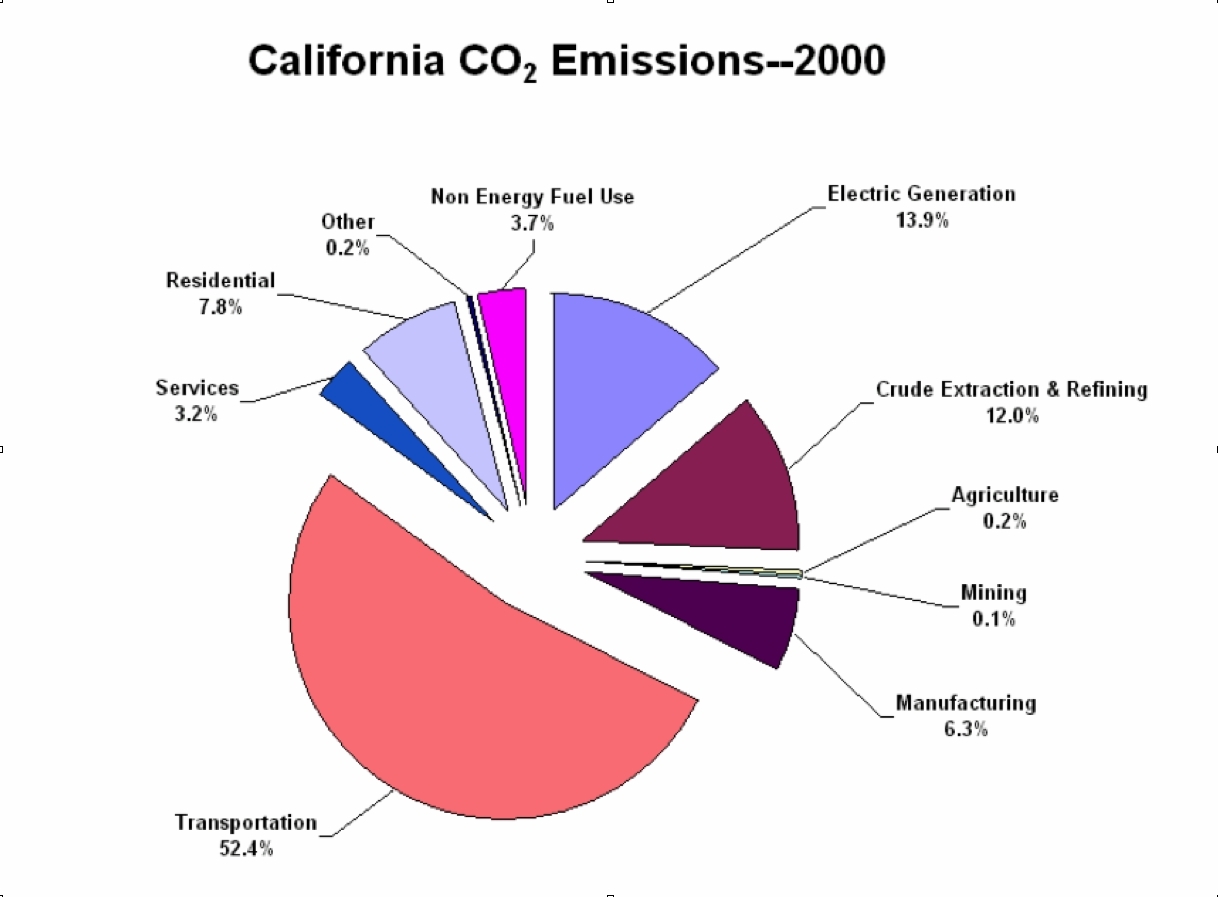 Breakdown of 2000 California carbon emissions by purpose. Source: California Energy Commission.
And then there is the energy dependence problem. 96% of US transportation is oil powered, and a large fraction of global oil supply comes from the following mix of less than ideally stable exporting regions.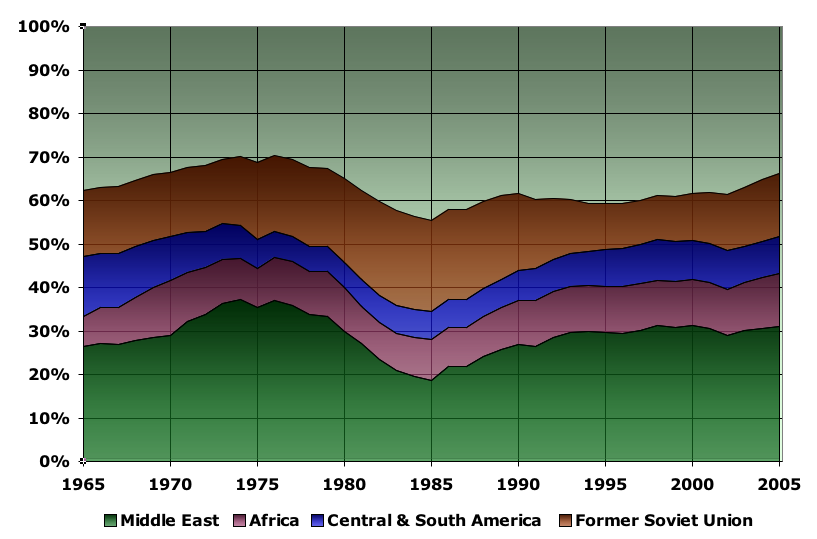 Proportion of global oil supply coming from various regions of less than ideal political stability. 1965-2005. Click to enlarge. Source: BP.
As you can see, dependence on the unstable regions peaked in the 1970s, and then declined as North Sea and Alaskan oil were developed. However, now that those are declining rapidly, dependence on unstable places is worsening again. Since the only possible source of much new oil from stable places is now Canadian tar sands, and growth in that source is expected to be relatively slow, this situation is all but certain to get worse unless demand for oil can be shrunk.
Not only is transportation critically linked with both oil and carbon emissions, but the quantity of transportation used (which can be measured by vehicle miles traveled) has historically been extraordinarily inelastic. It tends to increase inexorably year after year. Even the 1970s oil shocks produced only tiny 2% reductions in annual vehicle miles traveled.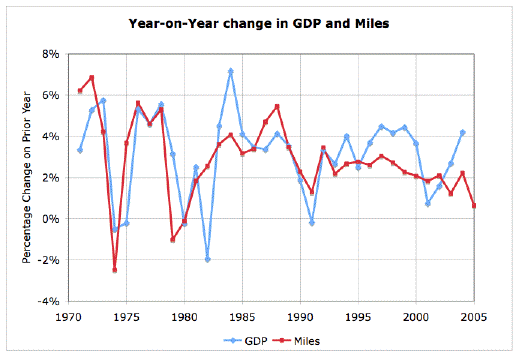 Year on year percentage changes in US vehicle miles traveled, with GDP for comparison. Major oil shocks occurred in 1973 (Arab embargo), 1978-80 (Iranian revolution and Iran-Iraq war), and 1990-1991 (first Gulf war).
All in all, highway transportation is both the most important and the most intransigent aspect of our energy problem, so it makes sense to focus on it. We really love to drive. And I should say, since much of this piece is about the downsides and externalities of driving, that in my opinion, mobility is actually a good thing and a thing critical to a developed economy. There's a reason that kids can't wait to drive when they turn of age, and there's a reason poor countries use mules while rich countries use cars. It's the same reason why GDP and miles driven are highly correlated in the graph above. Being able to drive, or otherwise get around, allows workers to choose amongst more jobs, it allows contractors or salespeople to reach more clients, it allows employers to choose from a larger set of workers. In general, mobility promotes improved division of labor and economic efficiency, and thus wealth. Conversely, wealth allows more people to pay for more mobility, which they do with great enthusiasm all over the world.
We also just like the convenience of driving, as well as the aesthetic experience of piloting a couple of tons of steel with a few hundred horsepower of motivation.
So the question is how to have the upsides of getting around freely while cutting the downsides.
A popular answer with many Oil Drum readers, environmentalists, and a significant fraction of the urban planning community is mass transit. This has historically made intuitive sense to me since certainly these modes require less energy per passenger mile when operated at a decent fraction of capacity (and I commute by Caltrain many days myself). However, it doesn't take long with the data to make this look like a very unlikely solution to our terrible trio.
Firstly, as most people are aware, hardly anyone in the US is using transit: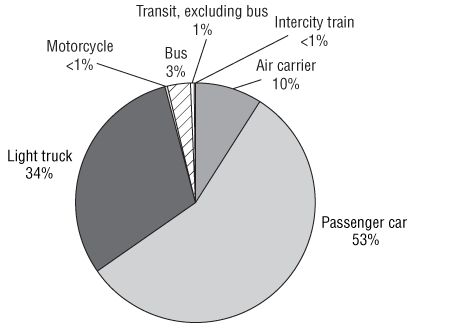 Passenger-Miles of Travel by Mode: 2002. Source: Transportation Statistics Annual Report 2005, Figure 1-1.
As you can see, railroads, light rail etc are less than 2% of passenger miles. Buses are another 3%. Cars and trucks are almost the entire picture, with air transport the main long distance mode.
Not only is the share of transit ridership tiny, but it's been falling over recent decades.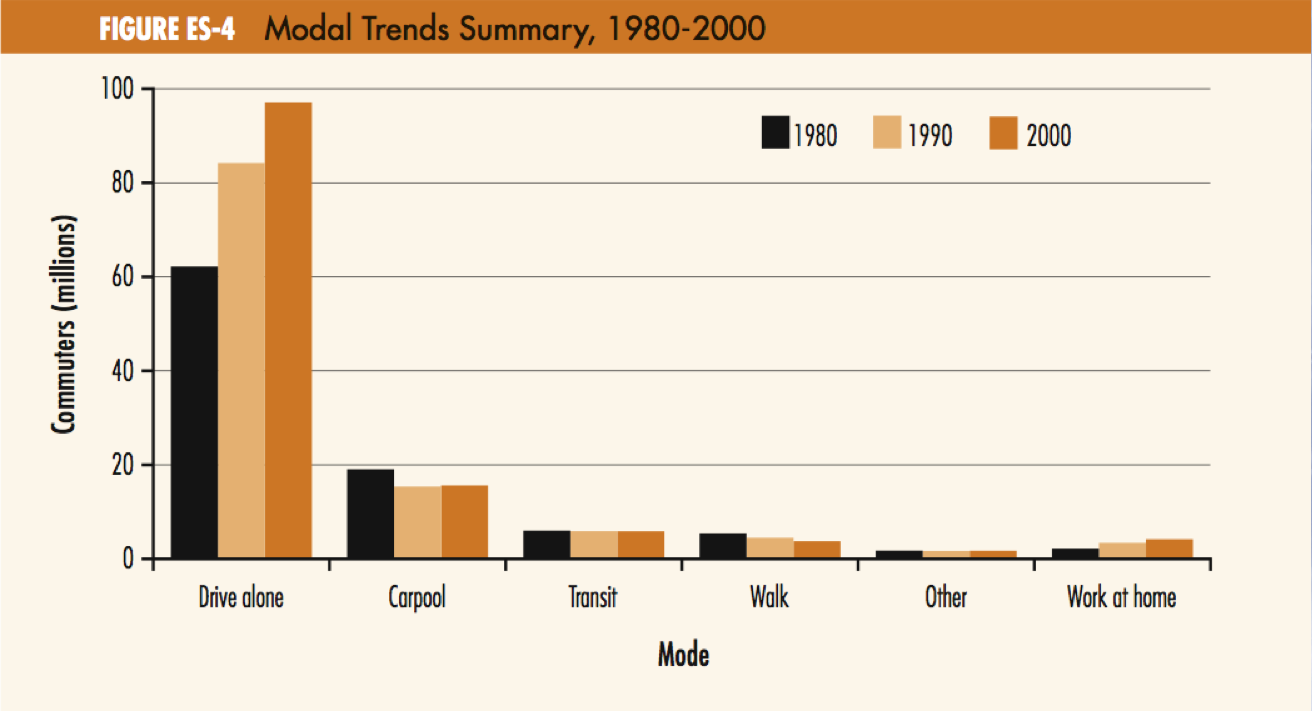 Source: Transportation Research Board: Commuting in America III.
Ok, but maybe this is because, due to the evil car companies and oil companies, we underinvest in railroads and transit? Well, a few hours digging around in government statistics suggest otherwise. For orientation, here is the fraction of GDP that is expended on investment in transport infrastructure.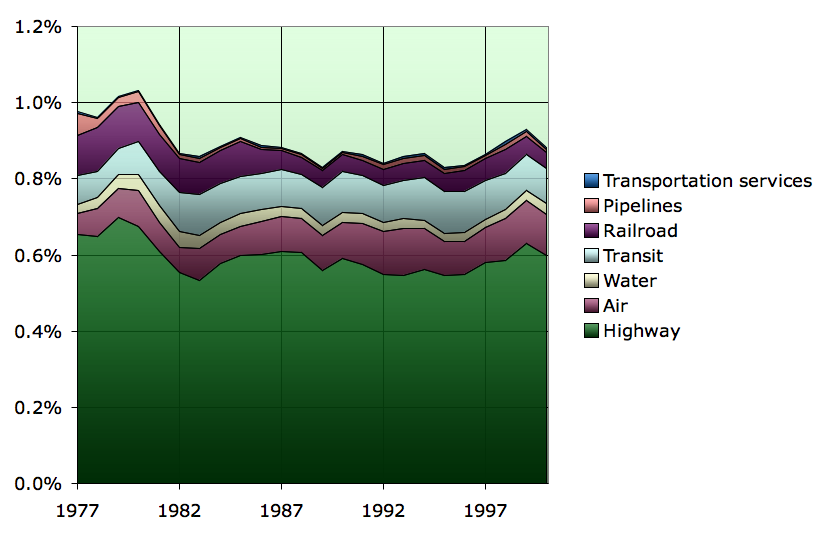 Investment in transportation infrastructure as a percentage of GDP by mode. 1977-2000. Source: Transportation Investment and GDP 2004: Table 6.6.
As you can see, we mostly spend a little less than 1% of our GDP on investment in our transport infrastructure, and that mainly goes on highways. However, look at this next graph. It shows the proportion of all transport infrastructure investment going on each of the non-highway modes.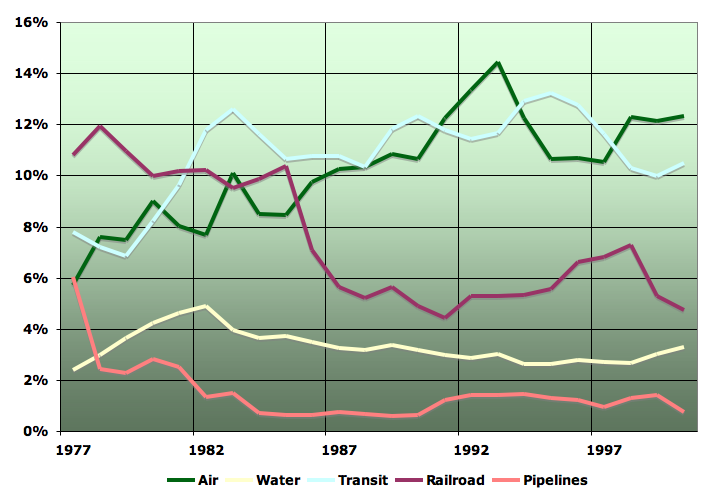 Investment in non-highway transport modes as a percentage of total transport investment. 1977-2000. Source: Transportation Investment and GDP 2004: Table 6.6.
What becomes clear to me is that the proportion of investment on transit and railroads is completely disproportionate to their ridership and has been for decades. Far from underinvesting in these modes, we are overinvesting. We invest comfortably over 15% of our total transportation infrastructure national budget into railroads and transit, and yet they are carrying only 1.5% of passenger miles. So each of those modes is roughly a factor of 10 worse than highways and airports in terms of the return (in actual useful movement of people) on the investment (in transport infrastructure spending). That's appalling and suggests that transit projects, at least taken in the aggregate, are basically a giant black hole for dollars that deliver little value. (Caveat: the long-haul railroad spending may have a stronger justification in terms of freight, but I didn't analyze that).
Ok, well why won't Americans take the train? Well, the rough answer is that it takes nearly twice as long to get anywhere (36 minutes versus 21 minutes for an average metropolitan area US commute according to The Road More Travelled). More specifically, transit critically depends on high population densities. There have to be enough people close to the station at one end of the ride, and enough interesting destinations at the other end of the ride, to make the ridership viable. It also helps if population density is high enough to make roads very congested. The following graph makes it amazingly clear: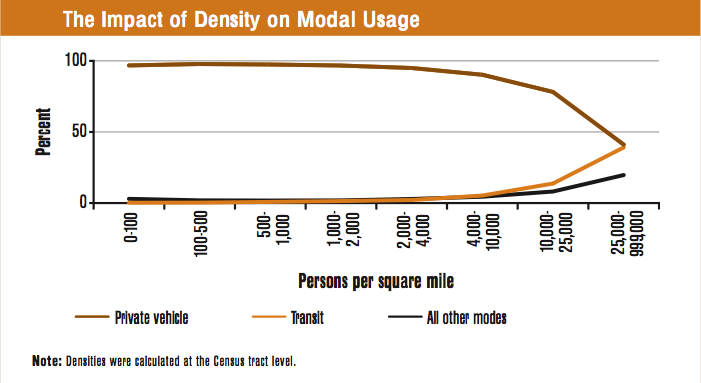 Transit and private vehicle share as a function of census tract density. Source: Commuting in America III.
And, again as most of us know, America was not developed with high density in mind. The number of places with densities in excess of 10,000 people/sq mile is extremely small: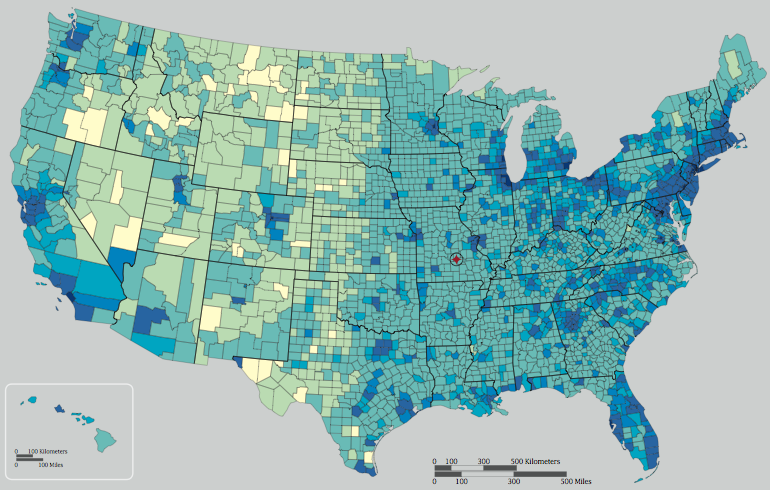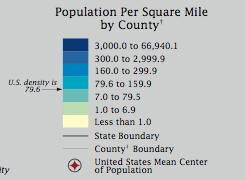 US Population Density by County. Source: US Census Bureau.
Thus as a result, transit share is extremely small except in the very largest cities, and then only in the city core: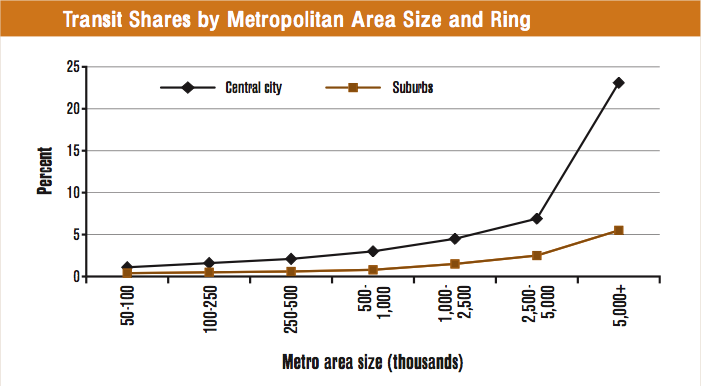 Transit share as a function of metropolitan size for both central city and suburbs ringing it. Source: Commuting in America III.
So in short, transit is quite simply never going to work to reduce auto VMT significantly at any reasonable cost in the present pattern of US urban development.
Ok. But we should start fixing all this, right? It may have been that American sprawl is "the most destructive development pattern the world has ever seen, and perhaps the greatest misallocation of resources the world has ever known" in Kunstler's memorable phrase, but we can fix it, no? We can promote Transit Oriented Development, and all will get better?
Only very slowly. The core problem here is the longevity of the housing stock. Here's the number of new housing units completed each year as a fraction of the existing housing stock: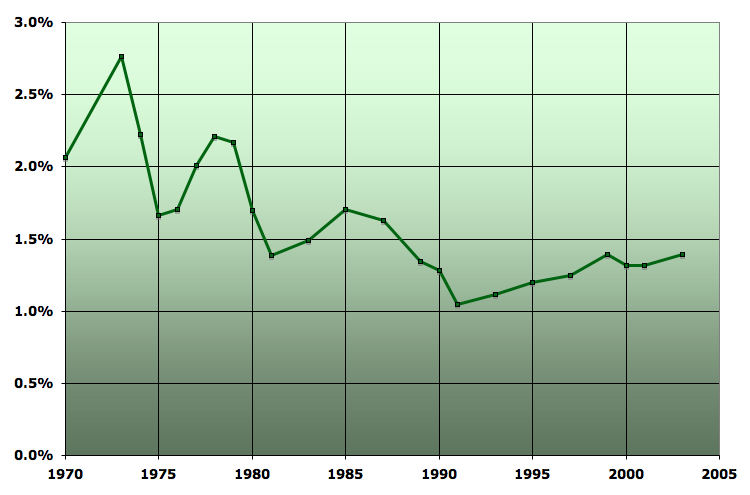 Annual housing unit completions as a percentage of total housing stock 1970-2003. Source: HUD, US Housing Market Conditions, Aug 2006 (Table 4 and Table 25).
As you can see, we only add a tiny and dropping fraction to the housing stock each year - now well less than 2%. Thus any changes we start to make in where we put future housing units will only make a very small difference each year. To get another look at the same things, here's the age distribution of US housing units: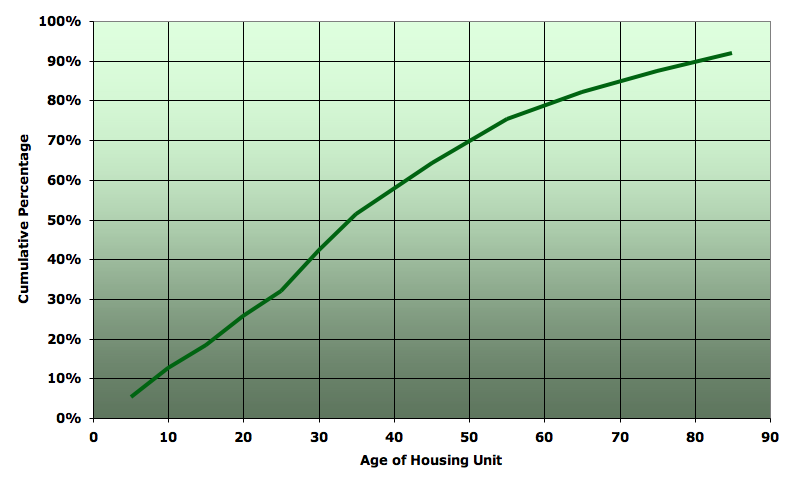 Age distribution of US housing units (Y-axis is cumulative percentage of houses younger than the age on the X-axis). Source: US Census Bureau, American Housing Survey for the United States: 2003.
The median housing unit is 35 years old, and many houses last a century.
To put this in wedge terms, consider the following thought experiment. Suppose, by politically draconian measures, we insist that all new housing development henceforward occurs such that the average driving of residents of those new units will only be half of the resident of existing units and we insist on retiring old units at the same rate we build new ones. That is, we basically force all new development to occur next to transit or in places of very high density. For this inconceivably herculean political effort, what do we get? Well, since about 1.25% or so of units turn over each year, we get a 0.6% wedge - not a major factor in our solution.
Contrast this with the situation for cars and trucks, which have a median life of only 5-6 years. Thus a herculean car replacement policy that insists all new vehicles are twice as fuel efficient as the old ones will create about a 4% wedge (ie something that makes a real difference). And this is why fuel economy responses were the leading demand-side response to the 70s oil shocks, and will probably be even more important going forward.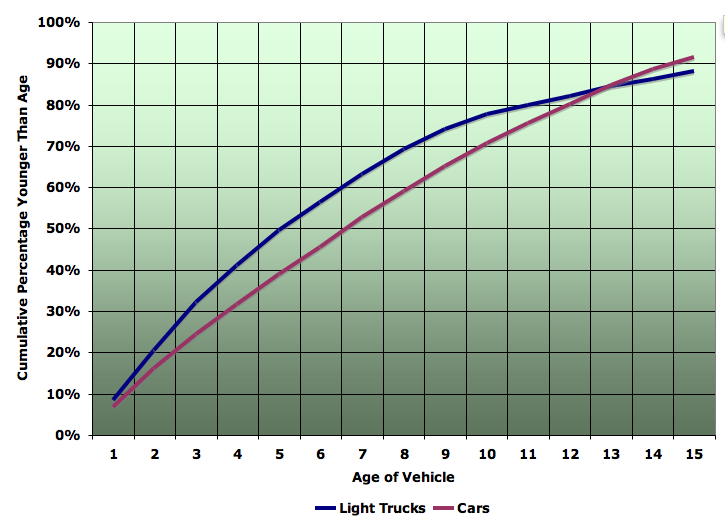 Age distribution of US light vehicles (Y-axis is cumulative percentage of vehicles younger than the age on the X-axis). Source: Transportation Energy Data Book, Table 3.6.
Finally, let me close with one last graph, which I finally tracked down: what are we all doing out there on the roads?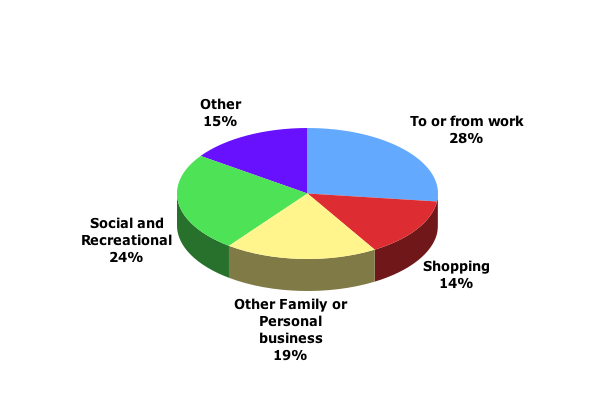 Breakdown of 2001 household vehicle miles traveled in the United States by purpose. Source: Table 6 of Summary of Travel Trends: 2001 National Household Travel Survey.
As you can see, the largest share of miles go in commuting, but social and recreational mileage is very close behind. Miles on personal errands and shopping are also significant contributions. So we would need to attack several of these categories to have much of an effect on vehicle miles traveled. More on that next time.