a linear extrapolation of oil consumption by demand growth, production growth, and demand elasticity
Posted by Prof. Goose on January 22, 2006 - 1:19am
[Ed: This is a guest post by Solarfan] One of the most challenging aspects of why we are all here discussing Peak Oil and its ramifications is to try to drive forward while looking in the rear view mirror. It's very difficult to predict the future, so we attempt to develop tools to hopefully give us a glimpse of that to come. No one tool or method will always give an accurate result, so we have to look for a "consensus" of indicators to help us feel confident about what's to come. I offer the following as but one of such tools, for examining the future price of oil and all that that entails. This uses a very simple analysis that boils down to linear extrapolation, affected by three main parameters: demand growth, production growth, and demand elasticity. I would not put any credence in anything long term, and even in the short term there is substantial variation possible. Finally, I'll add my own personal disclaimer – I'm an engineer by training, not an economist. (lots of plots and extrapolations under the fold...)
Looking at the data from EIA, I charted the following: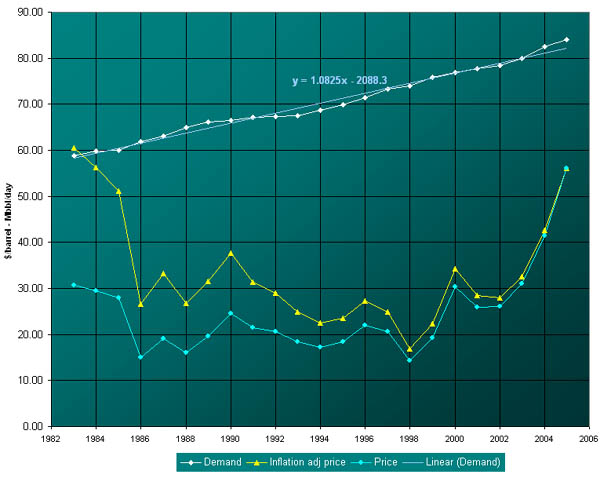 Demand has increased since 1983 in a very linear fashion, with a growth of 1.08MBD(Million Barrels per Day) per Year. This can be represented in the supply-demand graphs below by a steady shift in the demand curve from left to right as we move forward in time. Also, at any given time the demand for oil is very inflexible; price has little effect on consumption within a certain range around what, at the time, is considered a "normal" price. In my own experience, I can cut out the impulsive run to the hardware store on the weekend, but I still have to get to work every day. This makes the demand "curves" quite steep for any point in time. To try to get a ballpark WAG on what the slope might be, I looked at the data around Katrina, when we had a price spike of close to $10 and a consumption reduction of about 0.87 MBD (Million Barrels per Day), for a slope of about $-11.50/MBD. In this simple, linear model this slope, shown below, is one of three very important parameters in trying to predict future prices, and as I mentioned, $-11.5/MBD is a WAG.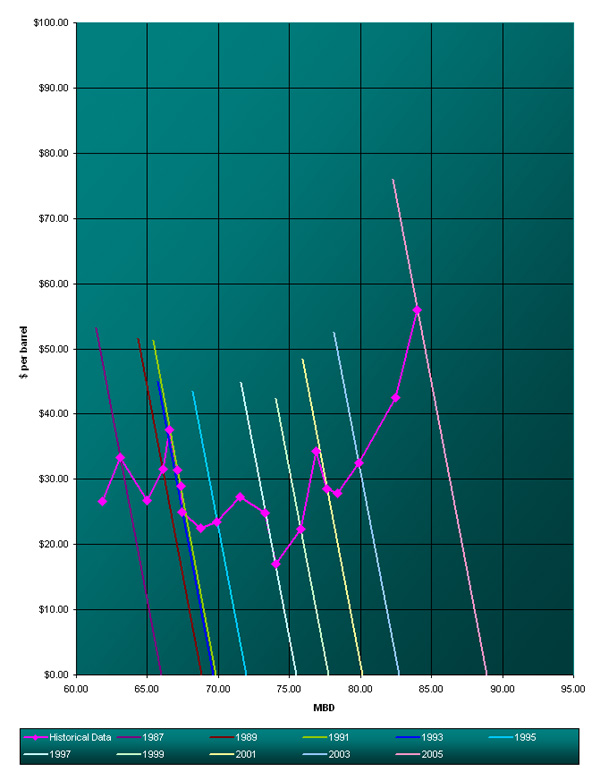 The second important parameter is the rate of demand growth. As we saw in the first graph, demand has grown at 1.08MBD/Year since 1983 (least squares fit). But if we fit the data from 1993 forward,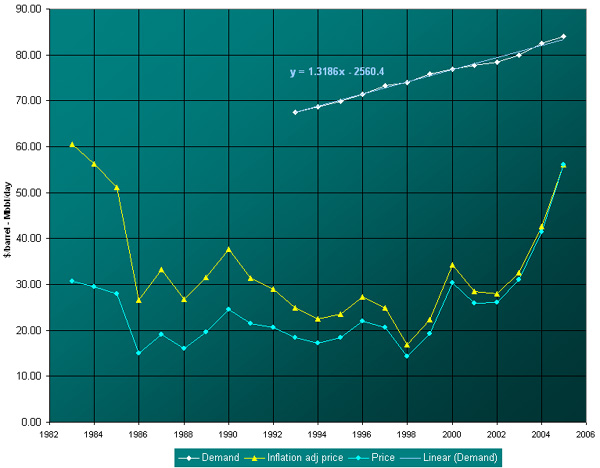 we get growth of 1.32MBD/Year. And looking at even more recently 2002-2005, we get growth of 1.95MBD/Year. Interesting that growth seems to be accelerating even in the face of the recent steep price increases (think India, China, and everyone else who wants what we have). The third parameter is either the value for peak production, or the rate of increase of production per year if peak is not imminent. Let's pick my WAG slope of $–11.50/MBD for demand, a middle-of-the-road demand growth of 1.5MBD/Year, assume production can grow at the same rate as 2004-2005, and try to plot the future.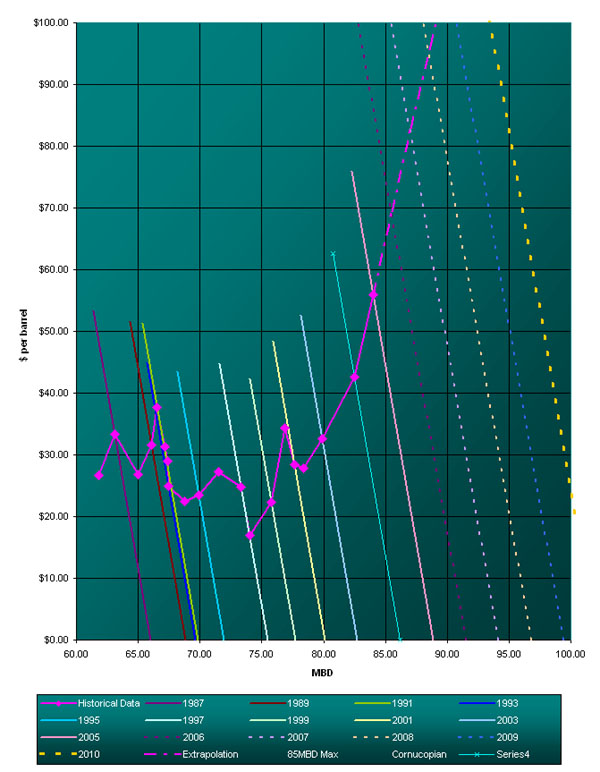 The supply curve (labeled Historical Data), until the late 1990's, has been pretty flat – producers have been willing to just pump more oil with little or no increase in price, to appease the shift in the demand curve. But if Peak Oil exists, and we are close to or at that point, then supply has an upper limit, so the supply curve starts to go vertical. In the middle-of-the-road example above, the average price of oil is predicted to increase about $12 per barrel per year.
Now, how about playing with the parameters. Some have argued that demand cannot be as inflexible as computed above. Economists put short-term elasticity around 0.2. By my amateur calculations, for $56 per barrel and 84MBD, that equates to a slope of $-3.36/MBD.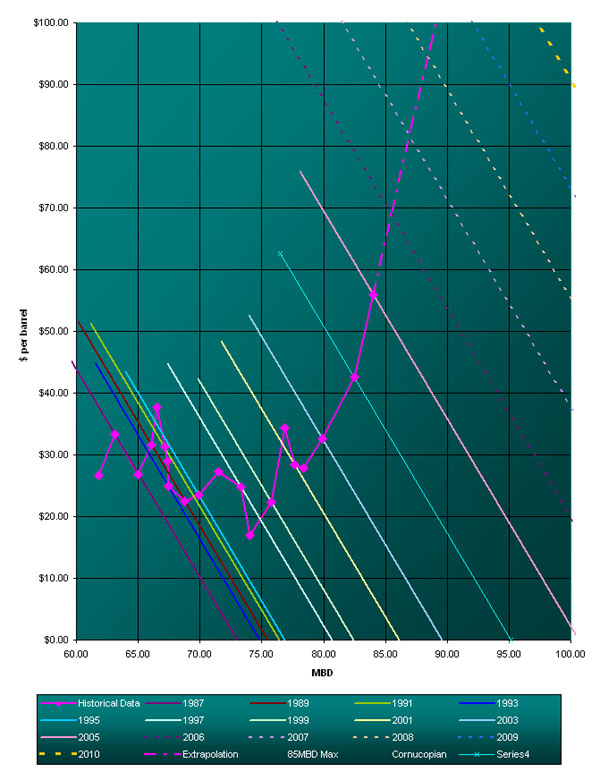 Regardless of the more elastic short-term demand, we are looking at $100 per barrel sometime in 2008, if production increases at the current rate. What is not shown or predicted, is how high the price must go before demand GROWTH begins to falter.
Now let's see what happens if 85MBD really is peak production. We'll keep the same demand slope, and assume that demand growth will be impacted and reduced to 1MBD (it has to if 85MBD is peak):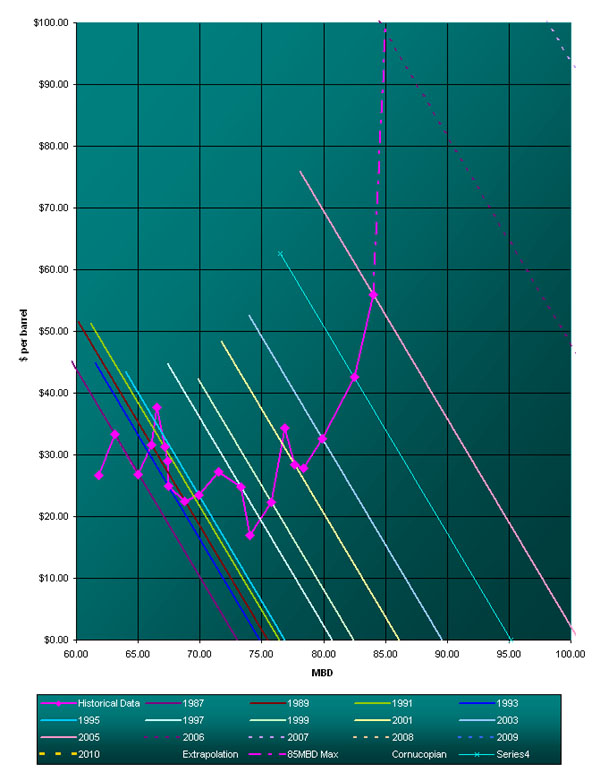 If production peaks at 85MBD, we're looking at $100 oil this year. Even if demand grows by only 0.5MBD per year, we're looking at $78 this year and $100 next year, again assuming a steady demand growth.
Finally, a look at the Cornucopian view, where the price of oil actually drops to $35 per barrel next year, in the face of 2MBD demand growth per year (Steve Forbes, I believe it was, predicted this late last year):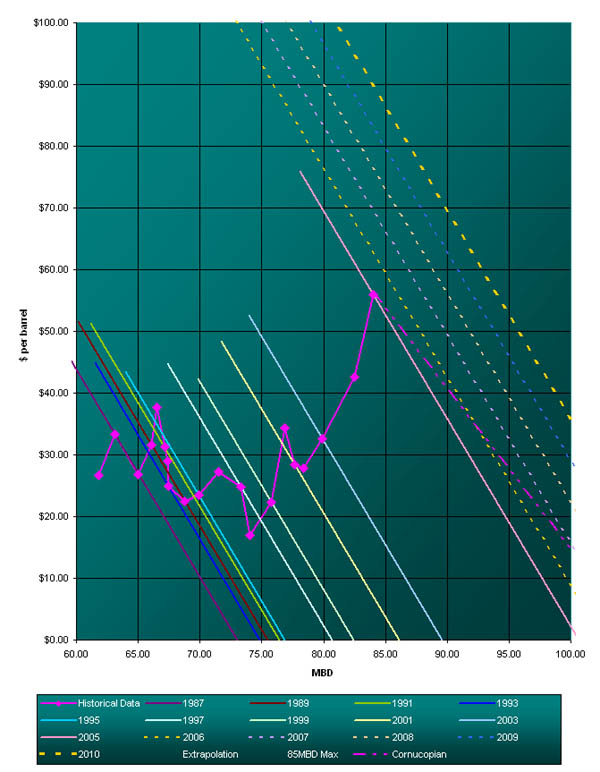 The world would have to increase production this year to about 92 MBD this year, or an increase of 8MBD. I don't think anyone anywhere is suggesting that sort of increase.
So, pick your favorite scenario. I think this next year will really start to reveal the true status of Peak Oil.