Oh(phelia), please not again...
Posted by Prof. Goose on September 7, 2005 - 11:24am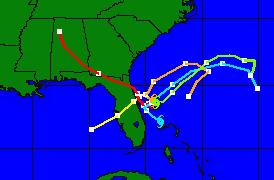 NOAA has no idea where she's headed, but the GOM is a possibility. Have a
look at the five main models they use
...just something to keep an eye on. Forecast discussion below the fold. (thanks Aaron D.)
MODELS ARE IN GREAT DISAGREEMENT MAKING THE FORECAST HIGHLY UNCERTAIN. BOTH THE GFDL AND THE ECMWF BRING THE CYCLONE WESTWARD OVER THE NORTHERN GULF OF MEXICO. THIS IS PROBABLY THE WORSE CASE SCENARIO FOR THE NORTHERN GULF COAST. THE OTHER MODELS KEEP OFELIA LOOPING NEAR THE SOUTHEAST U.S. COAST. THE BEST OPTION IN THESE CASES OF LARGE MODEL DISAGREEMENT IS TO FORECAST LITTLE MOTION.
http://www.nhc.noaa.gov/text/refresh/MIATCDAT1+shtml/071436.shtml