Ali al-Naimi...need I really say more?
Posted by Prof. Goose on September 27, 2005 - 6:35pm
http://quote.bloomberg.com/apps/news?pid=10000006&sid=afVg.BEwF2Jw&refer=home
Discuss. (and thanks to the many who sent this to us...) DuncanK says it all right here.
Saudi Arabia, the world's largest oil producer, will "soon" almost double its proven reserve base, adding 200 billion barrels to the current estimate of 264 billion, said the nation's oil minister, Ali al-Naimi.

...."There will be plenty of oil available to meet future demand," al-Naimi said today in Johannesburg. Prices are high now because "the petroleum industry faces infrastructure constraints and bottlenecks that are causing market volatility and restricting its ability to bring oil from the ground to the consumer."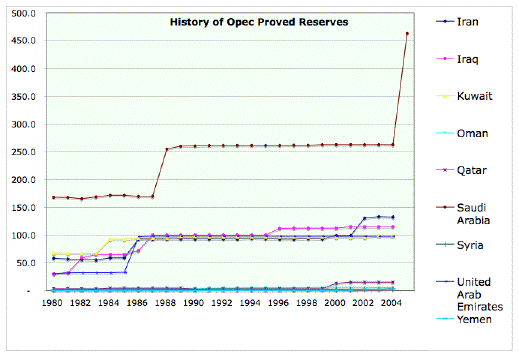 Time history of claimed reserves for various OPEC countries. Data is from BP Statistical Energy Summary + al-Naimi's new claim.