Straining To Keep Up
Posted by Stuart Staniford on October 22, 2005 - 5:09pm
Here's production for the last 3 1/2 years of the top 10 publicly quoted oil companies, sourced from
Petroleum Review
who got it from Evaluate Energy.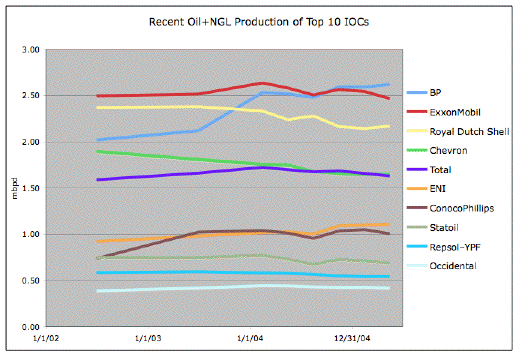 Hat-tip to
Vital Trivia
who drew it to our attention. The
Petroleum Review piece
says:
For ten of the top 22 companies, and for four out of the five largest private companies, the first half of 2005 saw lower crude and NGLs production than in 2004. Ten companies also produced less in first half 2005 than they did in 2003, while nine companies produced less than in 2002.

Clearly, it is no exaggeration to say that the world's largest publicly quoted oil companies are now really struggling to hold production levels, with only a few managing to maintain their market share of global production.
Where was that 10 trillion barrels the IEA had again? I know I saw it around here somewhere...