The Productivity of Vehicles
Posted by Stuart Staniford on October 20, 2005 - 6:04am
Having argued in
my post last night
, that most of the change in GDP/barrel of oil was due to increased efficiency, I was anxious to test that hypothesis by drilling into oil usage. I haven't finished analyzing it, but I came up with something striking enough that I decided on a partial results post.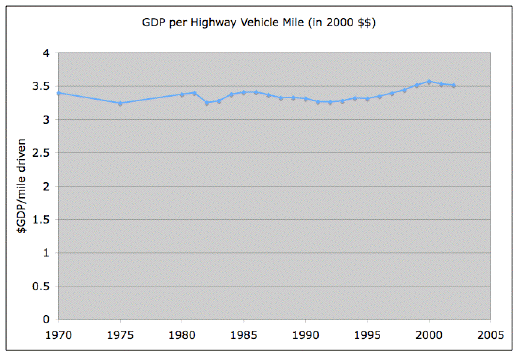 The above graph is US GDP in constant 2000 dollars (from the
Bureau of Economic Statistics
), divided by total highway vehicle miles driven by all vehicle types (from the
Transportation Energy Data Book
). It's
amazingly flat
with an average of $3.37 in GDP per mile (the standard deviation is only $0.09, and there's not much of an obvious trend).
It seems like there must be some deep reason for this, but it's not obvious what it is. One might think that any of the following might be relevant and might change to significant degrees over thirty plus years:
Proportion of miles spent for "economically productive" versus "frivolous" purposes.
Number of economically productive individuals carried in each vehicle mile.
Average length of commute (as housing sprawls).
Average distance trade goods moved.
Labor productivity of individuals after they get to work/jobsite.
But apparently the changes in these pretty much cancel out.
At any rate, given that the productivity of vehicles hasn't changed, fuel efficiency of US vehicles is easy to figure out (again from the Transportation Energy Data Book)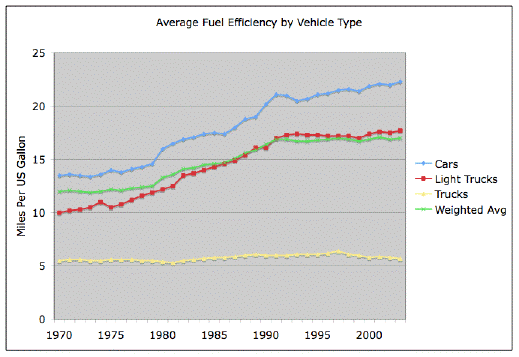 Taking the aggregate number, the highway fuel use per $GDP has dropped by 30%. So we're not at a 50% drop in oil/GDP yet (though we've got most of the way there). The rest must come from using less oil for electricity and heating, and maybe getting more GDP out of our industrial oil usage: