The Growth of Peak Oil Blogistan
Posted by Prof. Goose on May 1, 2005 - 5:00pm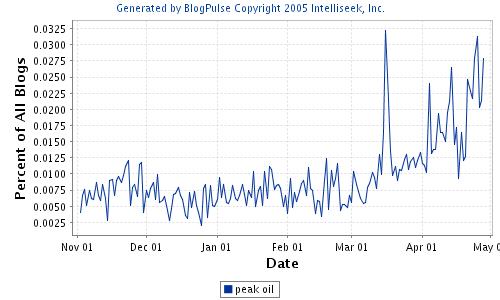 Check out this analysis from
blogpulse
.
In
an earlier post, I talked about and demonstrated the pattern of convergence of the terms peak oil, Saudi oil, and opec
in the blogosphere.
The other chart (linked above) demonstrated that peak oil is "driving" the conversation. This one shows that, while the amount of discussion of peak oil in the 'sphere is still surprisingly low (around .03% of the blogs), it has still grown quite a bit just in the last couple of months (from .0075% of the blogs around the beginning of March...and it was a steady random walk prior to that, it seems). The growth is really noticeable in April, isn't it? Interesting stuff.
It's not just because of TOD, mind you...there's a lot of good work going on out here in peak oil blogtopia.
In other words, keep it up, gang! It takes all of us to spread the word, and this graph shows that we're doing just that. Good job.
But, it also shows how far we have to go.
Technorati Tags: peak oil, oil